War Memorial Listed
Added on 13 April 2020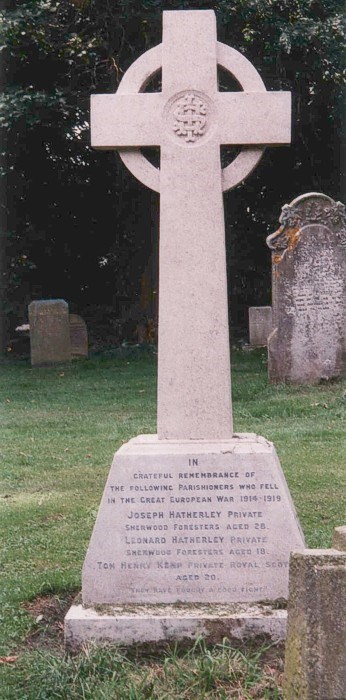 The National Heritage List for England has confirmed to the parish council that they have awarded Grade 2 Listed Building Status to the Stanton on the Wolds War Memorial, situated near the car park to Stanton-on-the-Wolds parish church on Browns Lane.
The War Memorial in the churchyard was Grade II listed as a building of "Special Architectural or Historic Interest" on April 12, 2019.
Details of the listing can be found on the Historic England website.
Reasons for Designation
Stanton-on-the-Wolds War Memorial is listed at Grade II for the following principal reasons:
Architectural interest: it is a well-detailed war memorial in the form of a Celtic cross;
Historic interest: it is an eloquent witness to the tragic impact of world events on the local community, and the sacrifice it made in the conflicts of the C20;
Group value: it has group value with the Grade II-listed Church of All Saints and the two Grade II-listed groups of C18 and C19 slate headstones in the churchyard.
History: The concept of commemorating war dead did not develop to any great extent until towards the end of the C19. Previously, memorials were rare and were mainly dedicated to individual officers, or sometimes regiments. The first large-scale erection of war memorials dedicated to the ordinary soldier followed the Second Boer War of 1899-1902, the first major war following reforms to the British Army which led to regiments being recruited from local communities and with volunteer soldiers. However, it was the aftermath of the First World War that was the great age of memorial building, both as a result of the huge impact the loss of three quarters of a million British lives had on communities and the official policy of not repatriating the dead, which meant that the memorials provided the main focus of the grief felt at this great loss.

The war memorial in Stanton-on-the-Wolds was erected in 1920 near the north-west corner of the church. The cost of the memorial was raised by public subscription (£21 11s) and it was made by William Bryans, the Overseer of Stanton for the Bingham Union. The memorial was cleaned and moved to its present position in a new memorial area outside the old churchyard in 1999. It was rededicated at a service conducted by Bishop Roy Williamson on 30 October 1999.